The death of former Monkee Davy Jones last week sent unexpected shockwaves of grief and disbelief throughout the world. We all know of his achievements, his talents and his body of work; no need to rehash them here. Instead, we would like to present the thoughts of a few of our members on the passing of a cultural icon, and what he -- and The Monkees -- has meant to them.

Gardner Grayle

I saw the Monkees as they aired. One of my favorite shows as a kid along with Batman and Gomer Pyle. Yahoo News is saying heart attack. Awful. And I'ma havta' go with Daydream Believer.

measle
I know he was hugely popular with teenage girls the world over, but I think the Monkees brought more to the table than crazy antics and boyish charm. I have to say, getting a little verklempt listening to Daydream Believer at work. Man, it would be hard to say goodbye friends you changed the world with. Guys like Mick and Keith, Plant and Page, John and Paul, etc.... you grow up together and go through once in a lifetime experiences together. The press, the girls, the crowds, the acclaim, the criticism .... I mean it would bond you for life. I think the extra sad thing, is that guys like Mick and Plant and Daltrey and Townshend, McCartney, Lennon, Brian Wilson, etc have all gone on to solo careers and projects, and their respective bands have morphed with the times (for the most part), the Monkees will forever be reminiscent of that fun, innocent time of goofy videos and Brady Bunch appearances, they were more than that for sure, but it feels like the end of an era today
Coffee Joe
Wherever they go, that's who they are. McCartney, Lennon, Daltry, Waters, Jagger, Plant, Townshend... they've risen above their bands. Not the Pre-Fab Four. And you're right about their music morphing with the times. The last time the Monkees tried that was with JUSTUS in 96. It worked, but received almost no praise for it. People just don't want to hear new stuff from them. They want to hear the same stuff they put out in a four-year period, for eternity. And given some of the dreck on "Pool It!", I can't blame them.


This whole thing has me floored. I've been a fan of The Monkees since I was eight years old. The first twenty or thirty mix tapes I ever made were Monkees ones. I used to send Davy Jones monthly fan letters. When he sent back an autographed post card, I actually passed out. I wore out their cassette tapes. I wore out my Monkees vinyl. I wore out CDs. I had pictures and posters of them all over my room when I was a kid that I got out of 16, Teen Beat, Tiger Beat, all of them. My friends and I used to pretend we were deejays on an all-Monkees radio station, and just play their shit over and over. When JUSTUS came out, I was a child again. New Monkees shit? OMGOMGOMGOMGOMGOMGOMG. I wore out TWO copies of that tape. It was my soundtrack for my first two years of college. And I will forever curse my profession, because blueberry season prevented me from seeing them LIVE this summer in Atlantic City. They are the ONE band I have ALWAYS wanted to see, ever since they went on tour in 86. And now I never will.

It's amazing to me how much this death has actually affected me. I never met the man. I don't know him personally. All I have is his music, which has been one of the few constants throughout the entirety of my life. And now he's gone, cut down at 66. And it actually hurts.

kcekada
Davy was my favorite character on the show when I watched it on Saturday mornings in the late 60s/early 70s. Very kid-friendly show.

"Little Bit Me, Little Bit You" is probably my favorite of Jones, but I liked all of their hits -- even their 80s comeback tune.

Of course, I was pissed that he got to go on a date with Marcia Brady, but TV crush.

RIP Davy -- gone too soon!
StrayCatBlues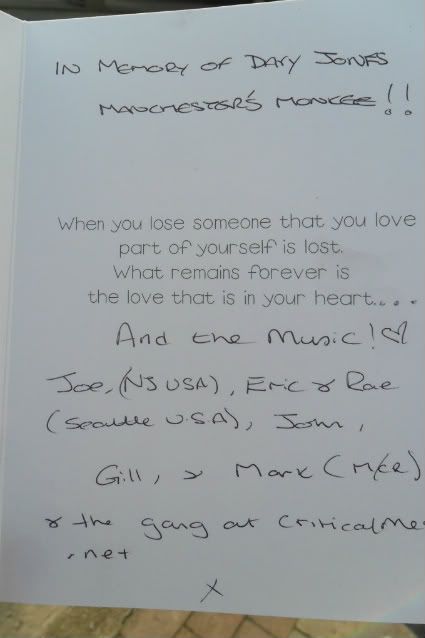 So after Joe suggested we should all team together to post our thoughts and pix, I decided to take a quick trip across town to see if there were any tributes going on and around in Manchester that I could add an official CM tribute too. So armed with card and flowers and an A to Z I found where Davy used to live. (Kinda)

Sadly it had been knocked down and they are building a new school.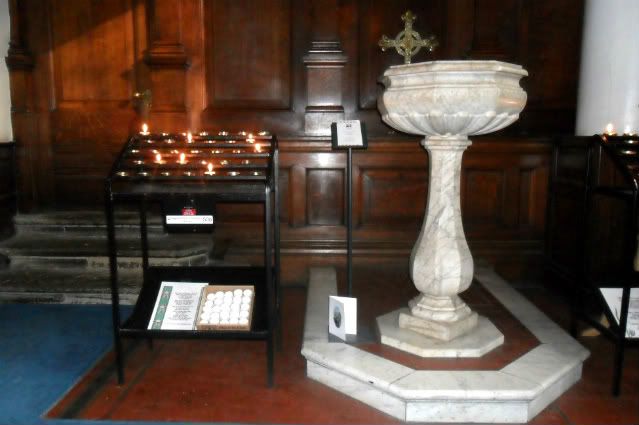 I've taken some pix and I added a view words in a blog as I thought my ramblings may be too much for a post, if you're interested they can be found here.

I left the card in a lovely little church which is right in the heart of the city and lit a candle in his name, and the flowers went to the Cardiac unit at Manchester Royal Infirmary.

Mirthquake
As a kid, I watched them religiously when they were on, and then taped them all when MTV brought them back for the 20th Anniversary Marathon.

In fact, my very first rock concert experience was back in 1986, with the MONKEES 20th anniversary tour, with opening acts Herman's Hermits, Gary Puckett and The Union Gap, and the Grass Roots. I literally left a job "audition" as a weather graphics guy at one of the local tv stations early because I had tickets to see the Monkees in concert. Who knows what I'd be doing now?

If it wasn't for Davy Jones (and the Monkees), music videos would not have happened as they did, Jimi Hendrix may not have ever gotten his start, Pavel Chekov would never had been added to Star Trek, and another David Jones would have never changed his nom de la musique to "Bowie". Who knew that a cute kid from Manchester could have ever impacted pop culture the way that he did.

Requiescat in pace, Davy.
powersthatbe

The one song that summed up jones for me would be "Daddy's Song" from HEAD, but my faves were "A Little Bit Me.." and "I Want to be Free" (both versions). My first concert was the 86 reunion tour when I was 16. I wrote an article about the show for my high school newspaper and also taped all the episodes from MTV. Some years back there was a free outdoor concert in a park by me which was nice as I was able to get fairly close to the stage, and within the last year and a half I was able to meet Mickey and Oeter at a con which thrilled me. I held out hope that I might meet Davy and mike as well, alas. ...and SCB that was very lovely, thank you.

Marv-El
Sad indeed. One of the symbols of a particular 60s spirit.I saw the Monkees (sans Mike) perform here in Louisville in 1987 with Weird Al opening. The show was great fun, and the guys appeared to be enjoying themselves immensely. Twenty years on and there were crazed fans of all ages.



Read More HERE.