While all of the Native American descendant inhabitants of Starhaven possess natural wings, it is Dawnstar's uncanny tracking powers and her ability to survive unaided in outer space and fly faster than light speed that earned her a place in the Legion of Super-Heroes.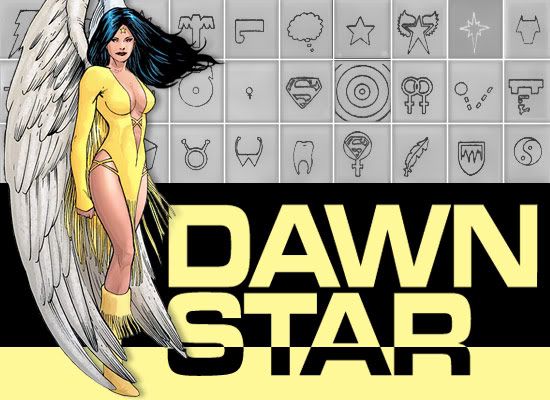 Kcekada
- Arguably the most current-wanted female Legionnaire action figure. Though she's sported two new outfits in the modern era, it's Mike Grell original that really has personality -- kinda reminds me of something Cher would have worn back in the 70s (a possible inspiration?!). Years ago, many of us were hoping that DC Direct would finally got off their collective butt and offer Dawny in a second Crisis wave, but it wasn't meant to be. Too many JLAers needed done in every artist-specific style they could find. But I digress. This is the version we want Mattel -- so get off YOUR collective butt and make it already!
JQ
- Though Dawnstar's most familiar costume had some variations in color, length and amount of fringe, loincloth or not, overall coverage, full headband or just the star on her forehead, all the basics are right here. I think most people want her in as close to a Crisis look as possible.
Hyperion
- I got nothing.  Star over headband.
Talk about it here!