By KCekeda, Andy, JQ, and Hyperion


Troy Stewart of Marzal, a dimension-shifting island that appears on Earth every 200 years, was born with the ability to produce various effects including flight, shields and teleportation by using different screams. This power helped him defend his people from the dangers of their alternate dimension and earned him the nickname, meaning "scream of the devil" in the language of his people, that he uses as his Legion code name: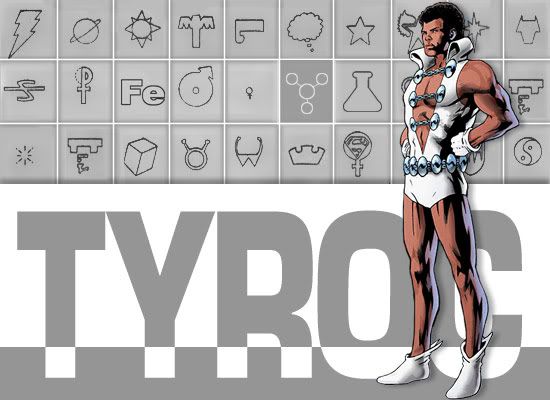 Kcekada
- This is one Legionnaire figure that I never wanted...until I saw the Barry Kitson cover with the retro Legionnaires including Dawnstar, Blok and Tyroc. As outlandish as this outfit is -- featuring the worst aspects of all 70s black heroes -- disco collar, deep V open chest, and even chains -- I actually would love to see it represented in 3D form. Fortunately, he's much better dressed these days in Legion Lost, but 70s Tyroc is the one to go with our already assembled Legionnaires.
Hyperion
- Admittedly, I love the outfit.  The screamingly stupid first appearance Affirmative Action story I could do without.  He needs to go back to this outfit and stick with it because the uniforms he's worn since lack pizazz.
JQ
- How do I defend a costume that has been ridiculed by its own creator? By pointing out that to me it wasn't a parody -- it was a new and different style costume on a timely character. Afro? Nothing unusual in those days. Maximum Black skin exposure? See Shadow Lass and Cosmic Boy for some other colors. Chains? I didn't think slavery, I thought cool. Elf shoes? Grell drew the same double-winged boots on Robin, and if they're good enough for him ... Now the big collar and short gloves? Dude's from an interdimensional island in the 30th century.
This illo is great in that it's just a straightforward presentation of Tyroc's costume. No exaggerated hair, no funky poses -- he's just standing there like it's perfectly normal for him to be wearing it. I'd love to see it in action figure form.
Talk about it here!