Given the power to create illusions that affect all of the senses by a witch at birth, Projectra of the Royal Family of the planet Orando joined the Legion on one of the most fateful days in its history. There she found friendship, love, tragedy, and ultimately expanded powers, a new identity and leadership of the team. Known not by a code name but by her royal title, she is ...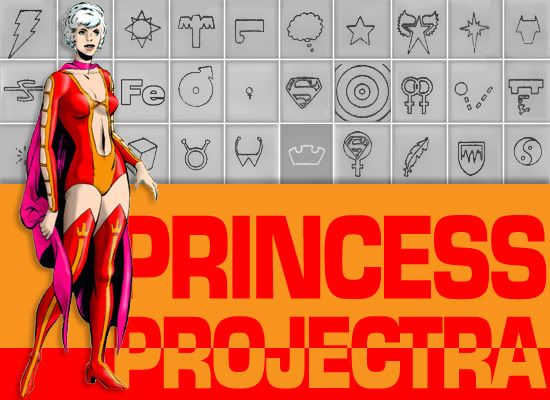 Kcekada
- This is really THE only choice when it comes to producing a version of Jeckie that goes with the 12 (13 including Thom) that came before. The is the young adult princess, and this is what she wore up until Great Darkness. Anything that came after never had a shelflife longer than one issue -- or was Jeckie as "new" character Sensor Girl.
Why not Sensor Girl? Too limited of a timespan -- especially if you're looking at the Bronze Age Legion, and we are. In fact, Sensor Girl is post Crisis -- kinda taking her out of the the Bronze and into the Dark Age. Another good reason is that Projectra's outfit -- in spite of the crazy Green Arrowish sleeves, is easier to create with paint apps.
But definitely put Sensor Girl down for a list of 5-6 Legionnaire variants that we want to see down the road.
One last comment regarding the Princess. I believe the orange/tangerine color is just that. It's not an attempt to do faux gold. Compare the image above with Phoenix on X-Men 101 -- and you can see that Cockrum approached gold in a different manner.
Hyperion
- The outfit is ok, but I don't like the hair. She had a shoulder length look that I like a bit more. The short and piled 'do makes her neck look too long. But I agree that none of her royal robes that came between this and her Sensor Girl turn are worth making into plastic.
JQ
- while I immediately think "bouffant" when I think of Jeckie -- that's what she had when I first saw her and she did have her hair up in the Silver Age stories I soon found myself reading -- Hyp is right about the hair. Grell brought it down into more of a "bob" cut, which we'll see in the discussion thread. While design-wise I'll always favor Cockrum, execution-wise I tend to side with Grell. Either hairstyle would make me happy though.



Talk about it here!