"I am a sad man, and because I am a sad man, I have undertaken a blog on CriticalMess fulfilling a sad, comic-related dream of mine; to go from being an elitist, obnoxious (and whatever else this site gets called elsewhere) JSA fan who knows a lot about his favourite characters to being an INCREDIBLY elitist and obnoxious JSA fan, who has read just about every solo story featuring the members of the JSA. But since we're obnoxious with a heart of gold, I'm blogging them here in quick, spicy bursts, detailing points of interest, plotlines and other stuff. I'm kinda hoping other fans will get something out of this online, but I'm enjoying it anyway; reading all (or most) of the JSA members adventures has been a dream since I was a sad kid. I'm hoping to share the wealth as soon as possible, with the aid of a CD-sending reading tree, but for now I'd like to thank SDComics Mike Walker for providing me with cover scans to brighten up this thing, and the rest of the Messers for some great feedback. Now, we start with the adventures of the JSA's first chairman, The Scarlet Speedster - Jay Garrick, THE FLASH!"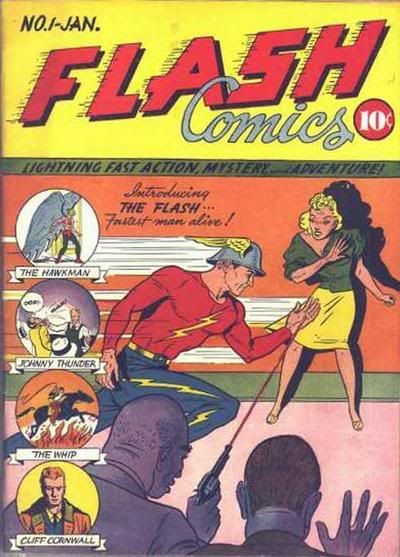 And so to
Flash Comics.
The first issue has been reprinted a number of times in the last decade, from the Archives, to the mini-comic given with the First Appearance figure, to a Millenium Edition. The actual copy I have on disc appears to be an original copy from 1939, for what it's worth.
Here is the original Flash, as written by Gardner Fox and drawn by Harry Lampert, in his earliest appearances. He still has the (what I consider) over-busy lightning bolts down the legs of his trousers, and in the first issue, comic book "black" hair (i.e., blue). In #2 and #3 his hair is white/gray/blond/God only knows what they were going for, until in #4, it becomes the "correct" brown.
You probably know the story - Midwestern College student Jay "Leadfoot" Garrick, football scrub and scientific smartypants, attempts to impress Joan Williams, but she's got a date with football hero Bull Tryon. Jay warms the bench at the games, and does his scientific research at night; accidentally knocking over some of the test tubes, he spends all night inhaling "hard-water" gases that put him in a coma for weeks. When he wakes up, he has tremendous speed because this is the Golden Age and we don't like to over-explain anything, and so he manages to impress Joan by being an unsurprisingly awesome football player and then soon after they graduate.
Jay becomes the Flash while in New York (the name "Keystone" won't be mentioned yet) aiding a scientist with his research, and time passes, until Joan seeks him out because her father, a Major, has been kidnapped by diabolical genius
Sieur Satan
of the "Faultless Four". Jay rescues Joan when an assailant shoots at her. The Faultless Four make a boo-boo by assuming she died, and Jay rescues the Major, and then many bystanders on the beach at Coney Island from a Faultless Four aerial attack. Sieur Satan attempts to throw the baby out with the bathwater by killing the other Faultless Three in a futile attempt to get Flash too, and then he panics enough when the Flash pursues him to run off the road, where he's presumed dead.*
*Although he survived, according to All-Star Squadron Annual #3.
So the Flash is still definitely in New York in #2 and #3 of Flash Comics. In issue #2 he and Joan bring a modern "Bluebeard", working with a crooked entrepreneur, to justice; this man, a so-called "Lord", romances various actresses, singers and dancers, and later, they're murdered; the mastermind is hoping to drive down prices so he can buy up assets. Joan is quite active in this, even visiting the Lord and pulling a gun on him; however, of course, it's Jay who writes "fini" to the tale. Jay has a "calling card" in this issue - a small-ish metal lightning bolt he throws at the wall near his quarry.
In #3, Flash aids Major Williams, Joan's father, again. This time he's in jail, framed for giving away secrets; however it's the unscrupulous owners of a newspaper, the Daily Cackle, behind it all - they're secretly working for a foreign power. Young Jay disguises himself as a cub reporter, and after strong-arming a Cackle reporter, gets to see the man behind the treasonous paper. Armed with a dictaphone (and his tremendous speed of course), he clears Major Williams and all is well once more. Possibly the most interesting thing here is how careless the Flash's secret identity is treated - it doesn't help that Major Williams replies to a prison guard saying that "a man named Garrick has cleared you of wrongdoing!" [I'm slightly paraphrasing here] with "Yes, he's the Flash you know!"(!), but also, the foreign power gets a phone call telling him that "Garrick" is after him, and he also surmises quickly (because Jay is speeding alongside his fleeing car) that Garrick is the Flash! Come
on
, Jay!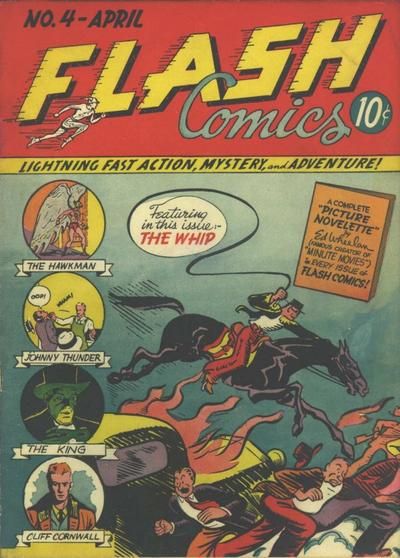 As noted above, in Flash #4, Jay finally gets his brown hair. In this routine-ish adventure he rescues a girl from drowning, and it turns out she was thrown over the side of a gambling ship. Flash checks out the ship incognito, after the girl tells him that her fiance is still on the ship, in the hands of kidnappers; they're rich, you see. After the guy's father brings the ransom, he too is captured, but Flash turns the tables on the kidnappers and saves the day; even when the villains attempt to escape on a boat from the gambling ship, their speed is obviously no match for that of the Flash. Joan takes it well when she discovers that Jay has another girl in his house. Jay's pimp hand is obviously strong.
Flash #5 and #6 tonight; for some reason, Flash is back to cobalt-blue/black hair in #6; ah well. Flash #5, however, features Jay's first costumed / codenamed nemesis -
The Vandal
. He's not particularly savage, though; just an art collector who goes to unscrupulous lengths - up to and including attempted murder - to bolster his collection. His costume isn't much either; just a purple/grey-ish robe. Still, as a beginning, there we are. The story itself is standard stuff, but it's noteable, I suppose, for not including Joan for once. Anyway, the Flash saves the painter in mortal peril, the museum exhibit in danger of being stolen, and returns the Vandal's ill-gotten spoils to the museum to boot. This is also the issue, it seems, that the Flash no longer has the superfluous lightning bolts down the side of his pants.
In the following issue, we see more Garrick carelessness, secret-identity wise, as Jay runs at superhuman speeds on a racetrack, in front of thousands, under his civilian name, to keep an eye on Wally (yes!) Stevens, a promising sprinter, drugged by (as it turns out) his own trainer, under orders from a ruthless gambling syndicate. At least Joan appears in this one, but she's unfairly dismissed as a "dumb dame" by the villains; classic 1940 sexism that leads to their undoing of course, as Joan relays vital information back to Jay. But still; no wonder Jay eventually revealed his identity in the 1970s - everybody probably knew it anyway!
These tales of the fledgling Flash don't have the panache that the All-Flash issues did, but things will change before too long. And either way, these tales still add to the legend, no matter how small a contribution it is.
In Flash #7, Jay helps a scientist and his daughter who are menaced by the unscrupulous criminal boss Black Mike. The scientist has invented a ray that disintegrates all metals. Being a small-time crook, Black Mike merely wants to use it to fix auto races. One of the races involves an old college pal of Jay's, Jimmie Dolan (of course, Jay appears in full Flash regalia and says, "It's me, Jay Garrick!" nice secret identity-keeping, Jay.) Flash helps out on Jimmie's pit team and makes sure that Black Mike's plan coms to naught, and the scientist and his daughter are safe. Jay's hair-watch: Cobalt blue again.
It's worth noting at this point how many people Jay and/or Joan seem to know who get caught up in their adventures. It seems like in every story, an old college or high school pal of one or the other is a major part of the plot. They must have been pretty popular. Oh, and Joan doesn't actually appear in this issue, for those keeping score.



Flash #8 is another Joan-free episode. Flash still has the cobalt coloured hair too. With those notes out of the way, we're settling down to a tale of the Flash defeating a bogus construction company who are putting up unsafe buildings for the cash. Flash has his powers sort of defined a little in this issue: He's "fifty times faster than a normal man" and can punch "at eight hundred miles an hour". Less forgivable is the fact that an Indian servant of the main villain is named "Omsab" which stands out almost immediately as an anagram of "Sambo". Ouch. I know it's 1940, but...
Otherwise, more standard Flash-ery, with the hero fulfilling the other side of the costumed adventurer brief - rescuing and helping innocent people. There's plenty of Flash crimefighting too, leading to a showdown at the wrestling ring where the boss is taking in a bout. Jay poses as a wrestler and defeats both his opponent in the ring and secures a confession from the crook too.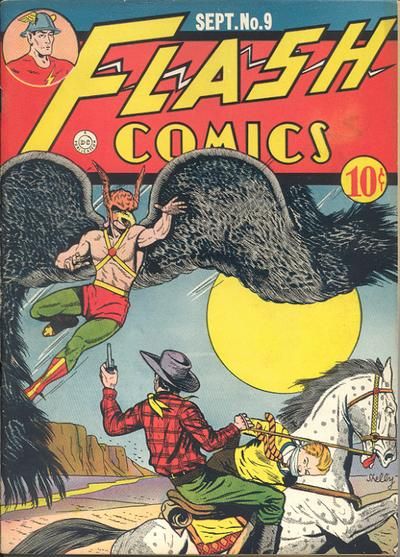 Flash Comics #9 features a fantasy-based foe - giant gila monsters. They're the unwilling creation of the stereotypical elderly professor, whose formula for creating giant versions of animals is hijacked by gangsters. The giant lizards create a diversion while the crooks rob the banks.
Luckily, nearby lives (yet another) old college chum of Jay Garrick. Summoning the Scarlet Speedster, Jim Evans sets the Flash on the trail, after which Flash runs one monster off a cliff, interrupts the bank robbers on a bank job, frees the captive professor, defeats the gang, and then finally leads a plane carrying explosives to destroy the monsters once and for all.
And for our regular scorecard: No Joan; Jay's hair is that weird blueless black/white again. Oh, and a caption claims that sometimes Jay can reach speeds of up to "a thousand miles an hour!". And of course, Jim Evans greets our hero with "Jay Garrick, the Flash!", cementing Jay's utter lack of a secret identity. Get with it, Jay!
For the next story, there's a little bit of that "social justice" that Superman used to touch upon in his early days; in this case, the local school board. There's a crook in charge and he's short-changing the kids and their futures, requiring that the school money goes to his firms, which are in turn a front. So naturally the Crimson Comet takes a hand, and finds that the true mastermind is gangster "Killer" Kelly. Kelly is thwarted by Jay in his attempt to bomb a bridge, and then flees the city to a rural backdrop, a lumber camp; there, he attempts to throw the baby out with the bathwater by sacrificing some of his own men in order to do away with the pursuing Flash - which, of course, fails. The men agree to testify against Kelly (although it seems they'd rather shoot him!) and the gangsters "plant" inside the school board is replaced by John Higgins, the honest man who was himself replaced by Kelly's man. And so ends Flash Comics #10.
Oh, and no Joan and Jay has blue-black hair. Flash is the cover feature and hence returns to the front of the book.
Talk About it Here!!